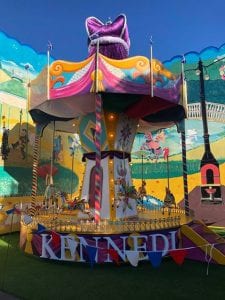 Good Morning Bo'nessians and Friends far and near.
This has turned into a difficult last few months due to the Coronavirus. Everyone has to stay at home and hopefully stayed safe.
It will be a strange day this year with our day cancelled and Lily will be crowned in August behind closed doors. I will be on hand to help if need be, but I am sure Lily will be a perfect Queen.
In the final hours of my reign as Bo'ness Fair Queen, may I in this my last message I send to the town's people.
It has been a pleasure and a life-changing experience having served one year in Office of which many regards as the highest honour in the town.
I have represented not just Bo'ness Fair on many occasions but also represent you the people of Bo'ness. The Committee of the Fair and Chairman Mr. Scott McBride & Ann Ritchie who have looked after me on each occasion I have been out.
Not forgetting my Chief Lady Sylvie and my Pages, Callum & Tyler. My Mum who has been my rock. Also, my Granda & Gran, Family & Friends who have been with me right through the year.
Hoping Queen Lily has the time of her life when she succeeds in what should have been in few hours time and carries Bo'ness Children's Fair Festival from strength to strength and in her reign, I know she will make the town proud to have her as our new Queen.
Wishing everyone a happy Fair Day and treasured memories to last a lifetime.
Queen Kennedi