Each year, P7 pupils from across Bo'ness are invited to enter the Ward-Birkby Memorial Trophy Writing Competition. This event has been running since 2010 and is held in memory of the former Queen and loyal supporter of the Fair, Helen Ward-Birkby (Donaldson).
This year, congratulations go to
Rhys Mayes
from Bo'ness Public, whose piece was chosen by judges Karen Miller (owner
Inkspot & Silverleaf Booksellers, Bo'ness
and Robert Jardine (local researcher and co-author of Without Fear: World War I Stories Related to the Bo'ness Memorial). Rhys captured the judges' attention by best describing 'What the Bo'ness Fair Means to its People'. He will receive the trophy at The Kirking of Queen Lexi next Friday.
Grange Primary's Elsie Miller was awarded second place, followed by Harris Wood from Deanburn in third. Well done to all!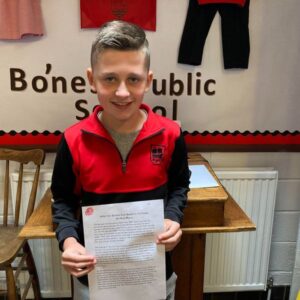 Rhys Mayes – Winner  Bo'nes Public Primary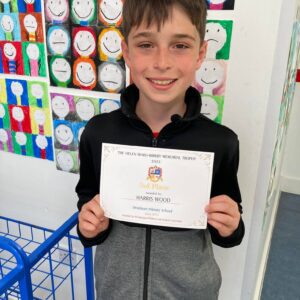 Elsie Miller – Runner Up,  Grange Primary       Harris Wood – Third, Deanburn Primary